Przemek will present during architectural conference in Wrocław, Hotel Panorama. Presentation will cover various aspects of contemporary computer-aided design techniques, especially focusing on generative and parametric approach in context of fabrication of architectural components.
Other presenters will include companies such as OWA Polska (acoustics), Luxima lighting, Fakro (windows), Cersanit (ceramics), Opoczno (ceramics), Mira and DuPont Poland (corian).
More information can be found on Virtus website or on facebook.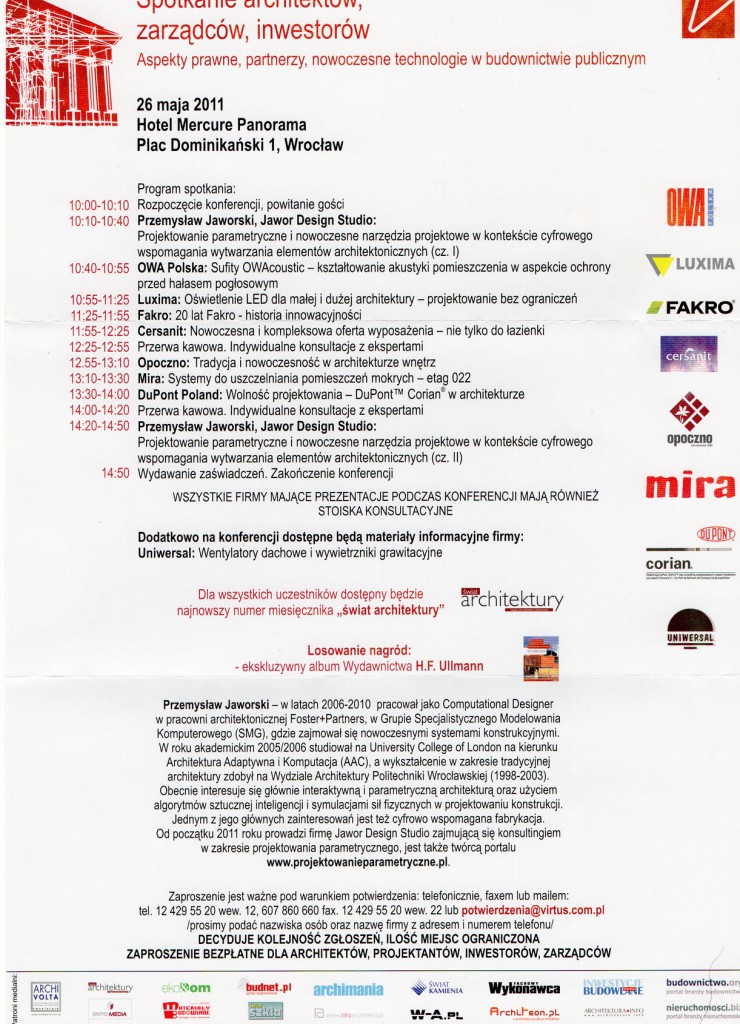 26 maja Przemek weźmie udział w konferencji architektów, zarządców i inwestorów organizowanej przez firmę Virtus. Prezentacja odbędzie się we Wrocławiu w Hotelu Panorama i obejmie różne aspekty związane z nowoczesnym projektowaniem, skupiając się głównie na algorytmach i użyciu technik parametrycznych w kontekście cyfrowo wspomaganego wytwarzania komponentów architektonicznych.
Inni prezenterzy to między innymi przedstawiciele firm takich jak  OWA Polska (akustyka), Luxima lighting, Fakro (okna), Cersanit, Opoczno, Mira and DuPont Poland (producent corianu).
Więcej informacji jest dostępnych na stronie firmy Virtus lub na facebooku.