Archive for the 'presentations' Category
You are currently browsing the archives for the presentations category.
On Friday 7th of December together with LabDigiFab research group we're planning to open an exhibition on computational architecture and digital fabrication techniques. The opening will take place in Oławska 21 street, in Headquarters  of SARP (Society of Polish Architects), the vernissage  starts at 7pm, everybody is welcome to attend!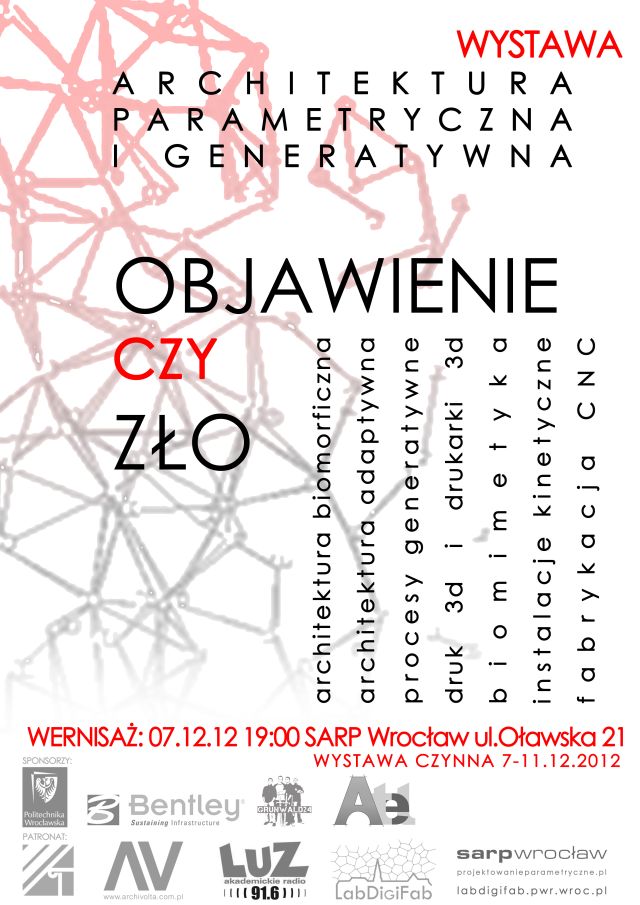 Organizers of Hackdays conference uploaded Przemek's presentation videos to blip.tv portal
First presentation : Parametric and generative design in architecture and design : From modern 3d modelling techniques to digital fabrication.
direct link tutaj
Presentation two : Virtual models in real world – interaction through tangible multimedia installations
direct link tutaj
More videos of presentations from Łódź can be viewed under link below:
During this year's Hackdays cultural and networking event in Łódź, model of tangible urban table was presented by Jawor Design Studio. Table serves as an aid in urban design, providing realtime feedback on design decisions.
Hackdays is an event bringing together artists, professionals, experimenters, and various sorts of creative minds to exchange information and mutual inspiration. Theme loosely revolves around the issues of physical computing, interaction and the use of multimedia in art and design.
Przemek will present two short lectures:
August 19, "Parametric and generative design in architecture and design. From modern 3Dmodeling techniques to digital fabrication "
August 20 "Virtual models in the physical world – the interaction through the prism of tangible media installations"
link to the event: http://hackdays.pl/
Przemek will present during architectural conference in Wrocław, Hotel Panorama. Presentation will cover various aspects of contemporary computer-aided design techniques, especially focusing on generative and parametric approach in context of fabrication of architectural components.
Other presenters will include companies such as OWA Polska (acoustics), Luxima lighting, Fakro (windows), Cersanit (ceramics), Opoczno (ceramics), Mira and DuPont Poland (corian).
More information can be found on Virtus website or on facebook.