Archive for the 'digital manufacturing' Category
You are currently browsing the archives for the digital manufacturing category.
During my teaching at School of Form in Poznań, I had an opportunity to work with KUKA robots and PRC plugin for Grasshopper. Together with group of 3rd year students, we explored the potential of controlling a 6-axis machine to draw geometric patterns generated previously in Rhinoceros.
The robot itself is Agilus KR6 model, able to carry load of up to 6 kilograms. Very nice and lightweight, also quite easy to program.
Below I present some of the material gathered during whole half year course. I believe this is just the beginning – looking at what people from PRC community are doing, I think we're looking at some crazy stuff coming up next semester ! 🙂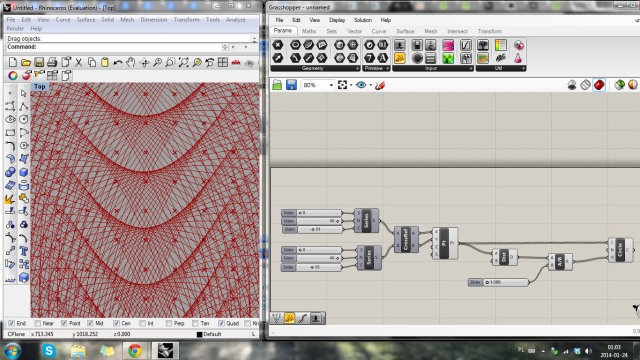 Jawor Design Studio developed a project of an exhibition space, that was built on Oławska street in Wrocław. The shape of the pavillion is heavily influenced by the dynamics of pedestrian movement, creating 'pockets' of space to encourage passers-by to participate in this semi-interactive graphic presentation.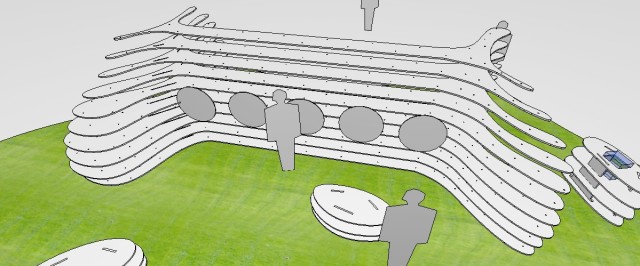 The project exhibited is called 'Aktywni-Kreatywni', and presents all activities that took place over the last few months in Wrocław and its surrounding area. It involved people from all around europe, mainly with Polish descent, and was purposed to bring them back closer to Polish culture.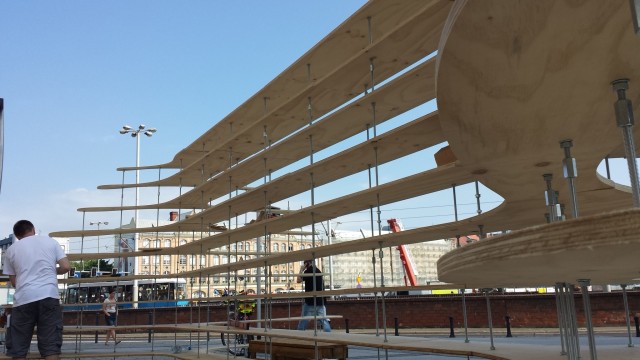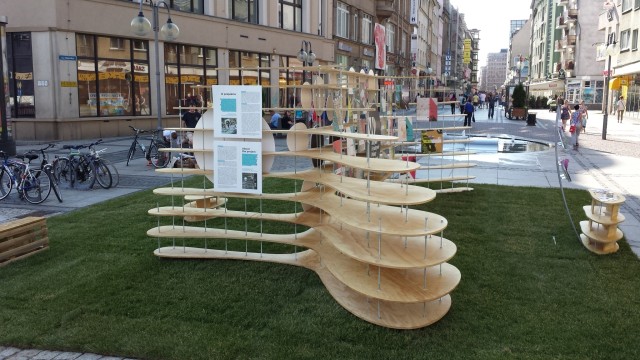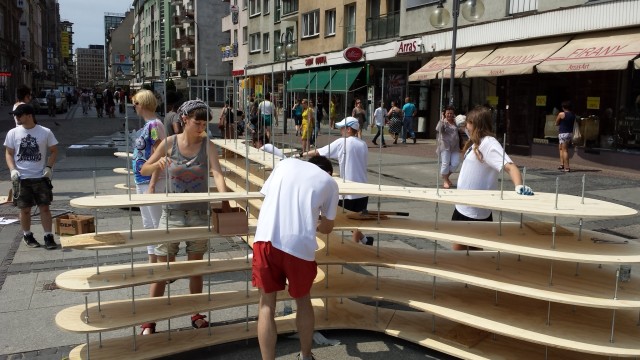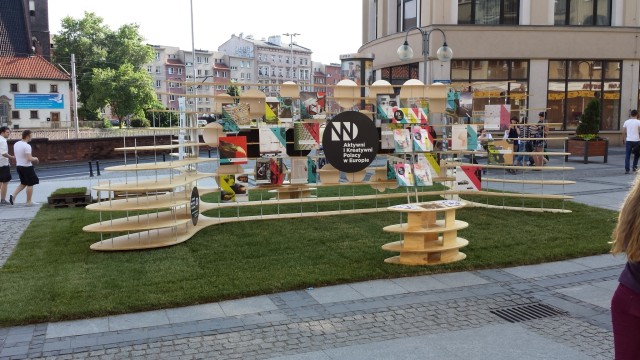 Structure consists of 10 levels of CNC cut plywood (18mm thick), 2.4m high and over 7m long. It is reinforced with 12mm threaded rods, nuts and washers (few hundred of them:-). The project was  developed in cooperation with Łukasz Jagoda from Onimo studio, and volunteers from CRZ Krzywy Komin and LabDigiFab.
More information can be found on http://aktywnikreatywni.pl/ and facebook fanpage.
Interactive multimedia installation called 'Biostagog' was opened for viewing in Warsaw, in headquaters of Platige Image. The piece consisting of 800 3d-printed parts was designed by Michał Piasecki and Mikołaj Molenda, and then 3d-printed on ZMorph personal fabricators in Jawor Design Studio's workshop.
More information on the sculpture can be found here (making of) and video showing the printing process is available on vimeo
Over course of summer Jawor Design Studio was involved in 3d printing of large scale spatial installation designed by Michał Piasecki and Mikołaj Molenda. In cooperation with Bolesław Telesiński and Piotrek Halczuk we built 6 Zmorph 3d printers and printed over 500 pieces made of ABS plastic. The installation will be opened this autumn in Warsaw, and will be fully video mapped, to create interactive audio-visual structure.
Mikołaj Molenda created a short movie about the process of printing, which will be later expanded to full documentary. Teaser attached below :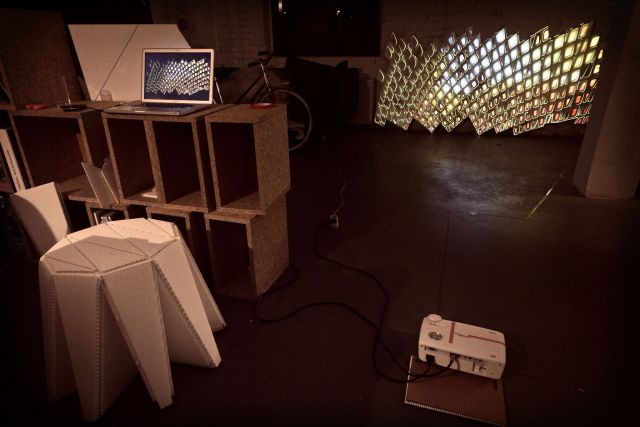 image courtesy of Mikołaj Molenda, all rights reserved
Some photos from the workshop :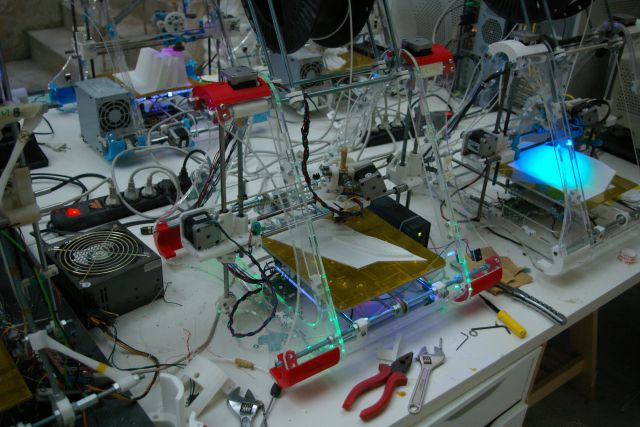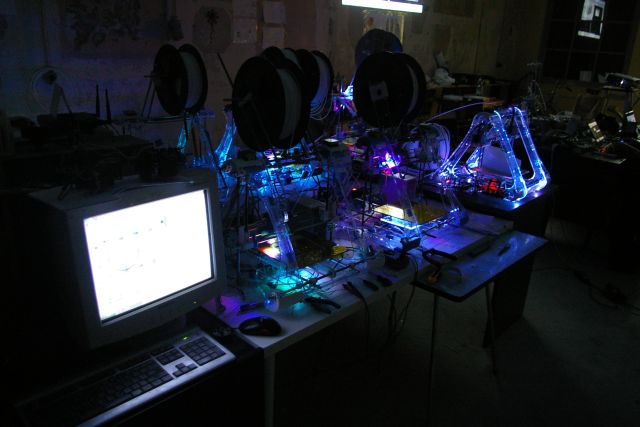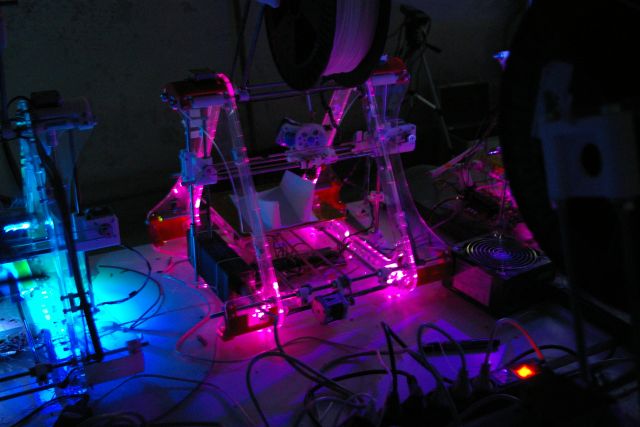 More information about Zmorph 3d printers is available on http://zmorph3d.com/