Archive for the 'Processing' Category
You are currently browsing the archives for the Processing category.
Kolejny prototyp interaktywnej instalacji stworzonej w Processing. System spr─Ö┼╝ynuj─ůcych cz─ůsteczek (agent├│w) wizualizuje pr─Ödko┼Ť─ç ka┼╝dej cz─ůsteczki za pomoc─ů jasno┼Ťci i koloru, podczas gdy ka┼╝da z nich porusza si─Ö w kierunku fizycznego obiektu wykrytego przez sensor Kinect.
Na video wida─ç program w dw├│ch trybach – najpierw cz─ůsteczki 'uciekaj─ů' od poruszaj─ůcych si─Ö os├│b, potem s─ů do nich przyci─ůgane.
human-sensing particles from Przemek Jaworski on Vimeo.
W dniach 7-11 listopada Przemek Jaworski razem z Madhavem Kidao (UCL) prowadzi┼é praktyczne warsztaty z u┼╝yciem urz─ůdzenia Microsoft Kinect w kontek┼Ťcie technik interaktywnych. G┼é├│wnym celem by┼éo wykorzystanie cia┼éa ludzkiego jako interfejsu, oraz eksplorowanie alternatywnych technik nawigacji i wprowadzania danych projektowych. U┼╝yto kilku najciekawszych technik augmentowanej rzeczywisto┼Ťci i reaktywnych przestrzeni czu┼éych na ruch u┼╝ytkownika : rozpoznawanie gest├│w, ┼Ťledzenie szkieletu/d┼éoni/palc├│w, detekcja ruchu itp.
Dodatkowo wi─Ökszo┼Ť─ç instalacji by┼éa sprz─Ö┼╝ona z generatywnymi systemami agent├│w, aby stworzy─ç ┼Ťrodowisko oparte na zbiorowej inteligencji, wzbogacaj─ůcej warstw─Ö interaktywn─ů o nieprzewidywalny ruch, ┼Ťwiat┼éo i kszta┼ét
Podczas odbywaj─ůcej si─Ö w ┼üodzi imprezy kulturalno-networkingowej Hackdays, zosta┼é zaprezentowany st├│┼é interaktywny do projektowania urbanistycznego, zaprojektowany przez Jawor Design Studio.
Very recently I was involved in writing Processing program, that was supposed to generate graphics for front cover of 'Grafik' magazine. Actually, the program was used on entire issue, producing vector fields from page context – images and text blocks, but most interesting part is dynamic flow.
In this collaboration with computational designer Jonathan Rabagliati, we overlayed particle system on top of generated vector field, creating network of 'flows', moving through page context. Some of the agents, in dense neighbourhoods start releasing 'trails' wandering through screen, omitting obstacles and trying to find their best way.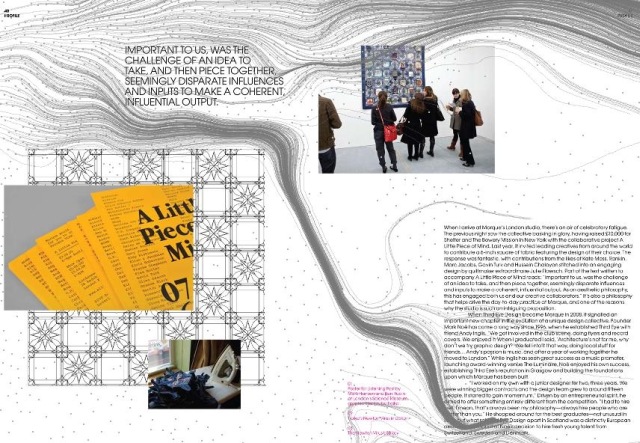 Process is illustrated in this video :
result may be seen on the cover of June 2009 issue.
I posted a video on vimeo.com, illustrating some of generative techniques described below.
Recently I started developing processing-based application for realtime particle tracing, shooting rays in specific direction and calculating bounces off voxels.
To read more click here