Archive for the 'Processing' Category
You are currently browsing the archives for the Processing category.
Another prototype of interactive installation made with Processing. Particle spring system visualizes the speed of each particle by variable brightness, whilst moving towards physical objects sensed by Kinect 3d scanner.
Program works in two modes – at first particles are being repelled from moving persons, then moved towards them by magnetic attraction.
human-sensing particles from Przemek Jaworski on Vimeo.
Between 7th and 11th of November, Przemek Jaworski together with Madhav Kidao taught a hands-on workshop on Kinect and interactive techniques. Main purpose was to use body as an interface, explore alternative data input techniques in design, and create augmented spaces that react to user movement. Techniques used included : gesture recognition, skeleton/hand/finger tracking, body movement detection and similar.
In addition, most of the installations were coupled with agent-based systems, to provide artificial collective intelligence environment, which was enriching the interactive layer, and providing live feedback on movements/data input.
During this year's Hackdays cultural and networking event in Łódź, model of tangible urban table was presented by Jawor Design Studio. Table serves as an aid in urban design, providing realtime feedback on design decisions.
Very recently I was involved in writing Processing program, that was supposed to generate graphics for front cover of 'Grafik' magazine. Actually, the program was used on entire issue, producing vector fields from page context – images and text blocks, but most interesting part is dynamic flow.
In this collaboration with computational designer Jonathan Rabagliati, we overlayed particle system on top of generated vector field, creating network of 'flows', moving through page context. Some of the agents, in dense neighbourhoods start releasing 'trails' wandering through screen, omitting obstacles and trying to find their best way.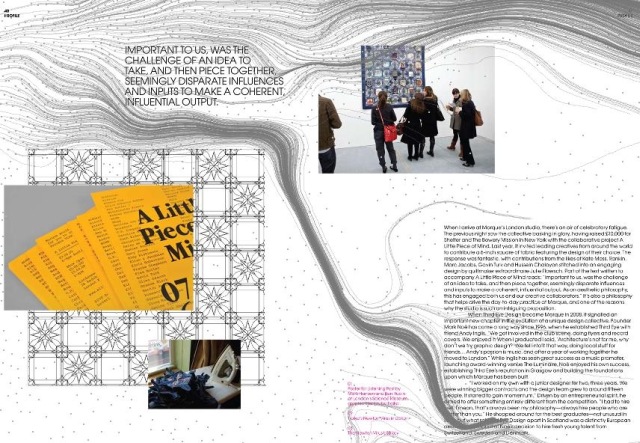 Process is illustrated in this video :
result may be seen on the cover of June 2009 issue.
I posted a video on vimeo.com, illustrating some of generative techniques described below.
Recently I started developing processing-based application for realtime particle tracing, shooting rays in specific direction and calculating bounces off voxels.
To read more click here