Posts Tagged 'fabrication'
Interactive multimedia installation called 'Biostagog' was opened for viewing in Warsaw, in headquaters of Platige Image. The piece consisting of 800 3d-printed parts was designed by Michał Piasecki and Mikołaj Molenda, and then 3d-printed on ZMorph personal fabricators in Jawor Design Studio's workshop.
More information on the sculpture can be found here (making of) and video showing the printing process is available on vimeo
Przemek will present during architectural conference in Wrocław, Hotel Panorama. Presentation will cover various aspects of contemporary computer-aided design techniques, especially focusing on generative and parametric approach in context of fabrication of architectural components.
Other presenters will include companies such as OWA Polska (acoustics), Luxima lighting, Fakro (windows), Cersanit (ceramics), Opoczno (ceramics), Mira and DuPont Poland (corian).
More information can be found on Virtus website or on facebook.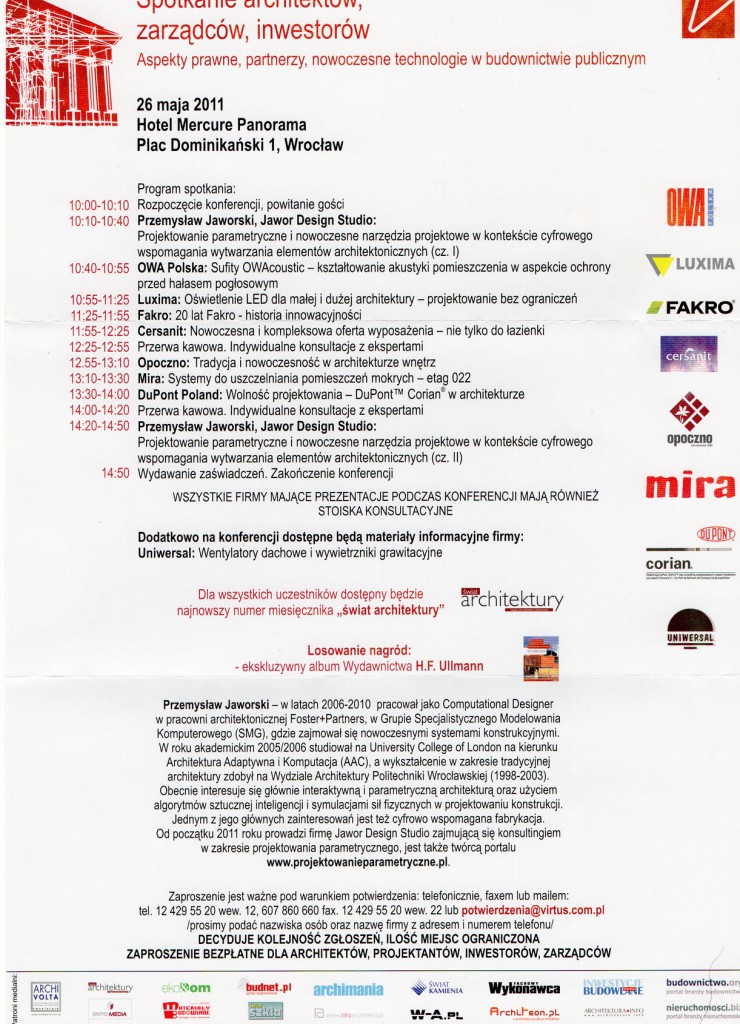 Przemek Jaworski and Michał Piasecki will lead a parametric design workshop held at Faculty of Architecture of Wroclaw Polytechnic University. Workshop will take place on 4 weekends, starting on 16/17 of April 2011. Material covered will include parametric BSplineSurfaces, panelization techniques of facades and roofs, automatic calculation of areas in freeform shapes and several key fabrication techniques. At the end participants will produce set of laser-cut physical models.
More info can be found here.